The Sunshine Coast provides Australia's fastest east coast data connection to Asia and the second fastest to the United States.
The Sunshine Coast international broadband submarine cable landed at Maroochydore on 23 December 2019, connecting to the 7000 kilometre Japan-Guam-Australia South (JGA-S) submarine cable.

The Sunshine Coast is already home to a network of innovative, tech-savvy businesses and the new high-speed connectivity gives data intensive companies like Facebook, Google, Amazon and Microsoft a reason to consider the region for Australian operations.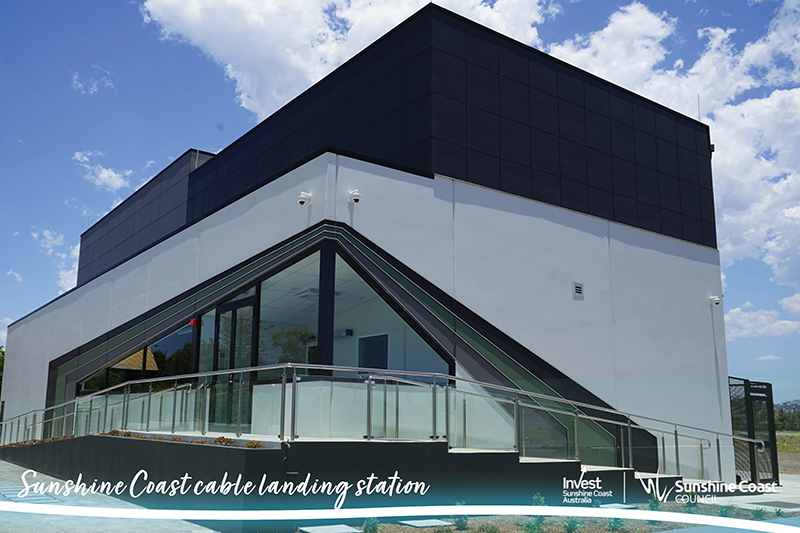 Image: Sunshine Coast Cable Landing Station, Maroochydore


Cyber Node given the nod
In another coup for the region, Sunshine Coast Council has landed a Cyber Security Innovation Node, one of only two regional nodes appointed in the country, housed in the cable landing station at Maroochydore.

Delivering increased cyber security capability, talent and education programs across the region, as well as fast-tracking cyber security exports internationally, the Sunshine Coast Cyber Security Innovation Node will play a strong role in AustCyber's national network of nodes.

With the global spend on cyber security products and services expected to exceed US$250 billion by 2026, the Sunshine Coast is supporting Australia's role in shaping the international cyber marketplace, and is capitalising on this emerging industry.

Sunshine Coast Mayor Mark Jamieson said the establishment of this Node is an important next step for the region after the activation of the Sunshine Coast International Broadband Network.

"The Sunshine Coast now provides the fastest international data and telecommunications transmissions from Queensland and the east coast of Australia to Asia, which makes our region a logical location for the development of leading-edge cyber security capabilities and expertise," Mayor Jamieson said.

"High value initiatives such as this, which we identified early on in our submarine cable journey, will generate exciting new employment and industry development opportunities that will underpin our region's economy.


Stimulating innovation
The Sunshine Coast is one of Australia's most dynamic locations for new food and agribusiness investment. It is home to more than 900 agribusinesses producing a wide range of products, from seafood and strawberries to plant nurseries and dairy.

The cable is expected to fuel further innovation in this sector, including the use of AI, sensory technology in farming and better tracking of production and waste.

Other data dependant industries such as banking and finance, healthcare, digital media and creative technologies are expected to be drawn to the Sunshine Coast's offering of data capability plus business and lifestyle advantages.

The cable also opens the door for tech-based businesses to consider the Sunshine Coast as the location for their video and film production, animation, 3D modelling, interactive design, eSports and more.


City to come alive
An increase in data reliability and faster connection is also set to broaden the events and entertainment sector, creating new cultural experiences for Sunshine Coast residents and establishing new opportunities for local tourism operators.


A great place to live and work
The Sunshine Coast is already known as one of Australia's top holiday destinations.
As a place to live and work, it's also one of the envies of the nation.
Queensland's 3rd largest city

Continued economic and employment growth

300 days of sunshine per year

Perfect work-life harmony

Award-winning universities

Highly educated workforce

World-class health services

52km of open coastline

13,000km of water courses

39,835 hectares of national parks, state forests and reserves

1800 local events annually
As investment in the region continues to grow, residents are benefiting from diverse employment opportunities matched with a thriving lifestyle and economy.

The Sunshine Coast economy is on a growth trajectory that is set to reach $33 billion by 2033.

Already, $12.5 million in infrastructure investment is underway and the region was named one of the world's Top7 Intelligent Communities in 2019 and a Smart21 Community for six of the last seven years.


Find out more.
Watch the Sunshine Coast International Broadband Network video.
Contact us!
Sunshine Coast Council welcomes and supports the growth of local businesses and the establishment of new ones.
If you've been thinking about your data needs or expanding to Queensland and you'd like to hear more about Sunshine Coast Council's free site selection or business introduction services, please don't hesitate to get in contact.
Call the Head of Trade and Investment on
+614 0775 3645
Web: invest.sunshinecoast.qld.gov.au