By Head of Industry Development - Economic Branch, Anne Lawrence (first published on LinkedIn).

Our innovation and entrepreneurship ecosystem expanded 65% in the last three years, reflecting the dynamic network of education programs, business incubators, coworking spaces, advocacy events and meetups which provide an ideal location for startups, entrepreneurial talent, news ideas and creativity.
The first Sunshine Coast Entrepreneurial Ecosystem map, launched at the Advance Queensland Innovation and Investment Summit in 2016, captured the support and resources available for new, emerging and established innovators and entrepreneurs to encourage closer partnerships to cement our position as a leading region for innovation and business development.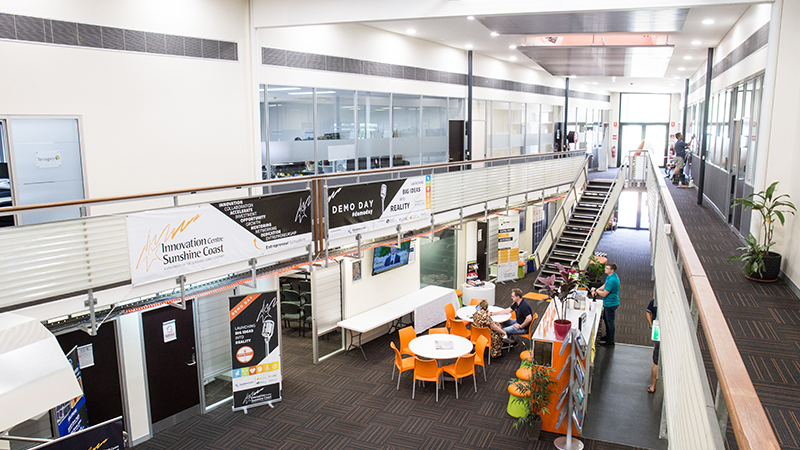 Sunshine Coast Innovation Centre.

In 2019, the updated ecosystem expanded from seven to 10 clusters, incorporating three new clusters - programs, maker spaces, and infrastructure investment – while the number of organisations, programs and activities grew from 46 to 76 during the past three years, including:
More information about these great programs and initiatives are available in council's Innovation and Entrepreneurship brochure. Note that this map is geographically focused on the Sunshine Coast Local Government Area. For information and activities inclusive of our friends in Noosa, we suggest SCRIPT as a resource.

Celebrating our achievements

Collaboration
When asked about the strength of our ecosystem, I try not to immediately default to the quantitative analysis, instead I reflect and comment on the strength of the collaborations between the many people working on projects and initiatives represented graphically by the 'spider web' ecosystem map feature image of this post.
The effectiveness of our ecosystem is primarily due to the passion, commitment and kindness of the Sunshine Coasters who regularly #GiveFirst.
I know that Chad Renando from Startup Status is doing some great work in evaluating and measuring ecosystems, so you can dive deeper into that topic by reading his LinkedIn articles and following his twitter feed.

What's next
In addition to updating them map again for 2020, where we warmly welcome ideas and contributions, some date claimers for early 2020 that you may be interested in below - and further details will also be in our monthly business enews:
26 February: Queensland Chief Entrepreneur Leanne Kemp will visit the region (coordinated by Innovation Centre and supported by SCRIPT) featuring an inclusive range of activities.
24-25 March: Qode event in Brisbane where Sunshine Coast will have a strong feature aligned to our International Broadband Network (and SCRIPT will support 10 local delegates to attend).
3-5 April: Startup Weekend Sunshine Coast (coordinated by Silicon Coast and supported by SCRIPT).
22-24 May: RoboRAVE international robotics event at USC (coordinated by RoboCoast and supported by SCRIPT).
3 June: BiG Day In (tech skills for school children symposium).

Stay in the loop!
Get notifications of various events and activities, subscribe/join some of the following:
Look forward to seeing you at one of the many events or activities around the region shortly.